LONGINGHOUSESuwanomori, Old Karuizawa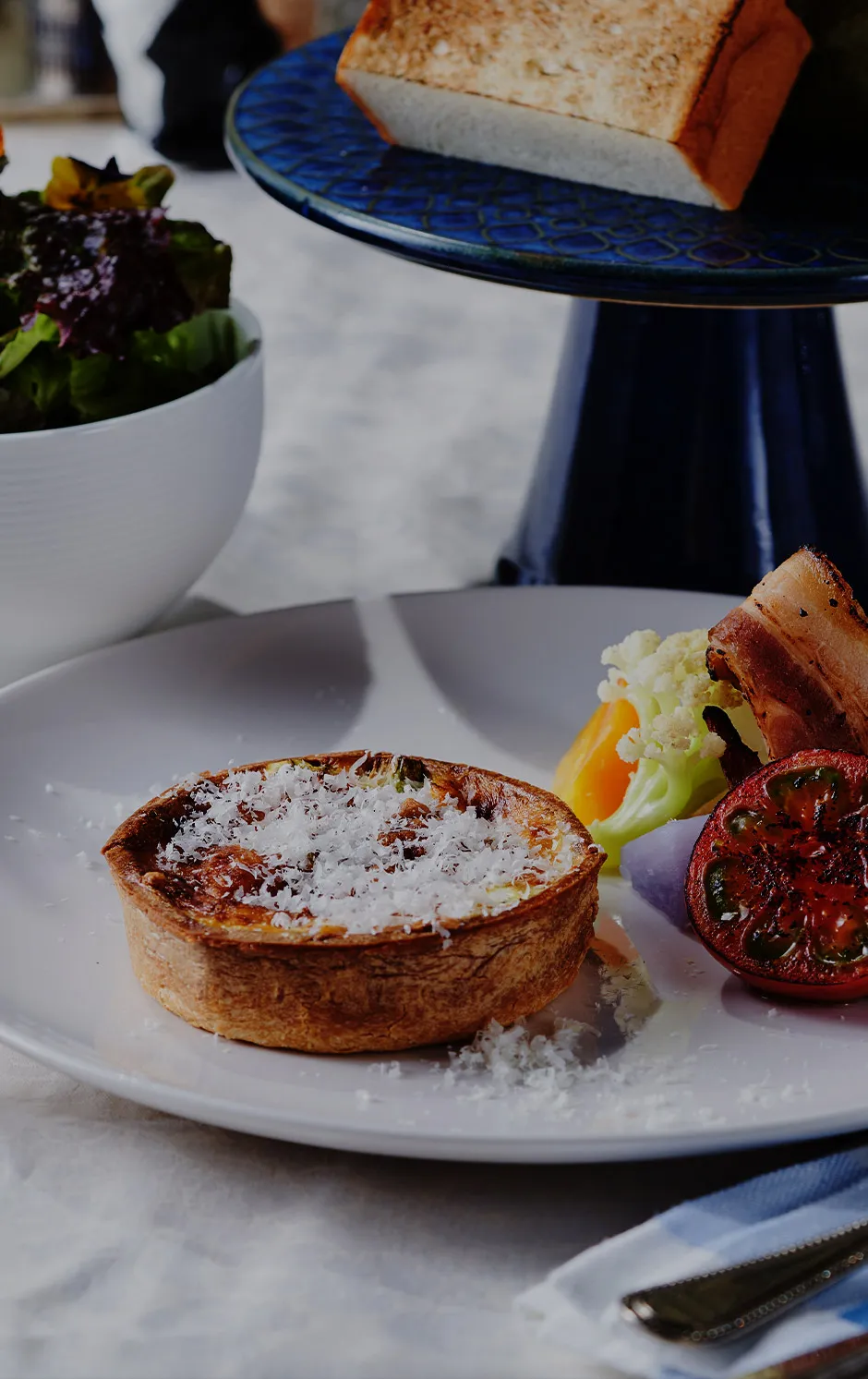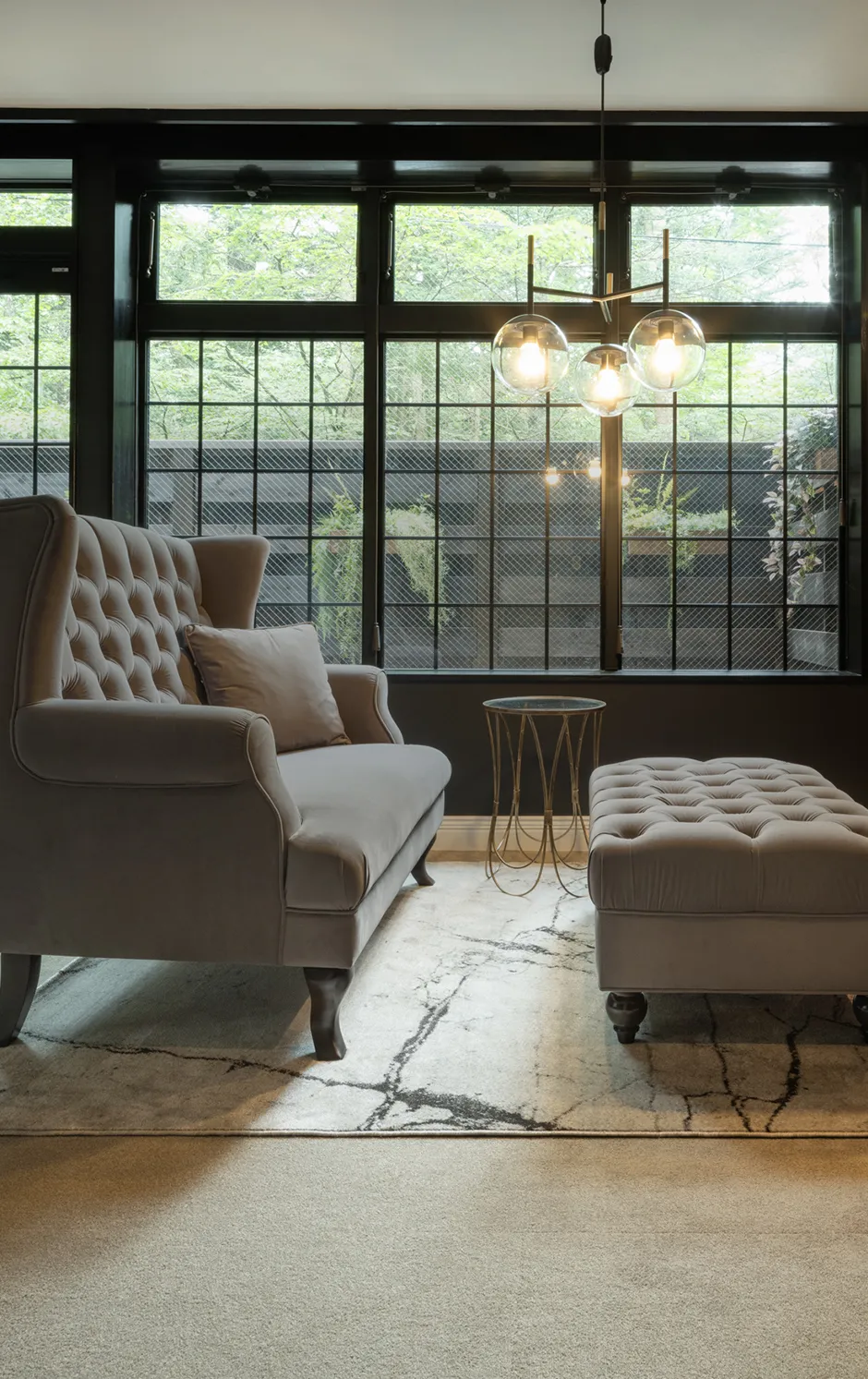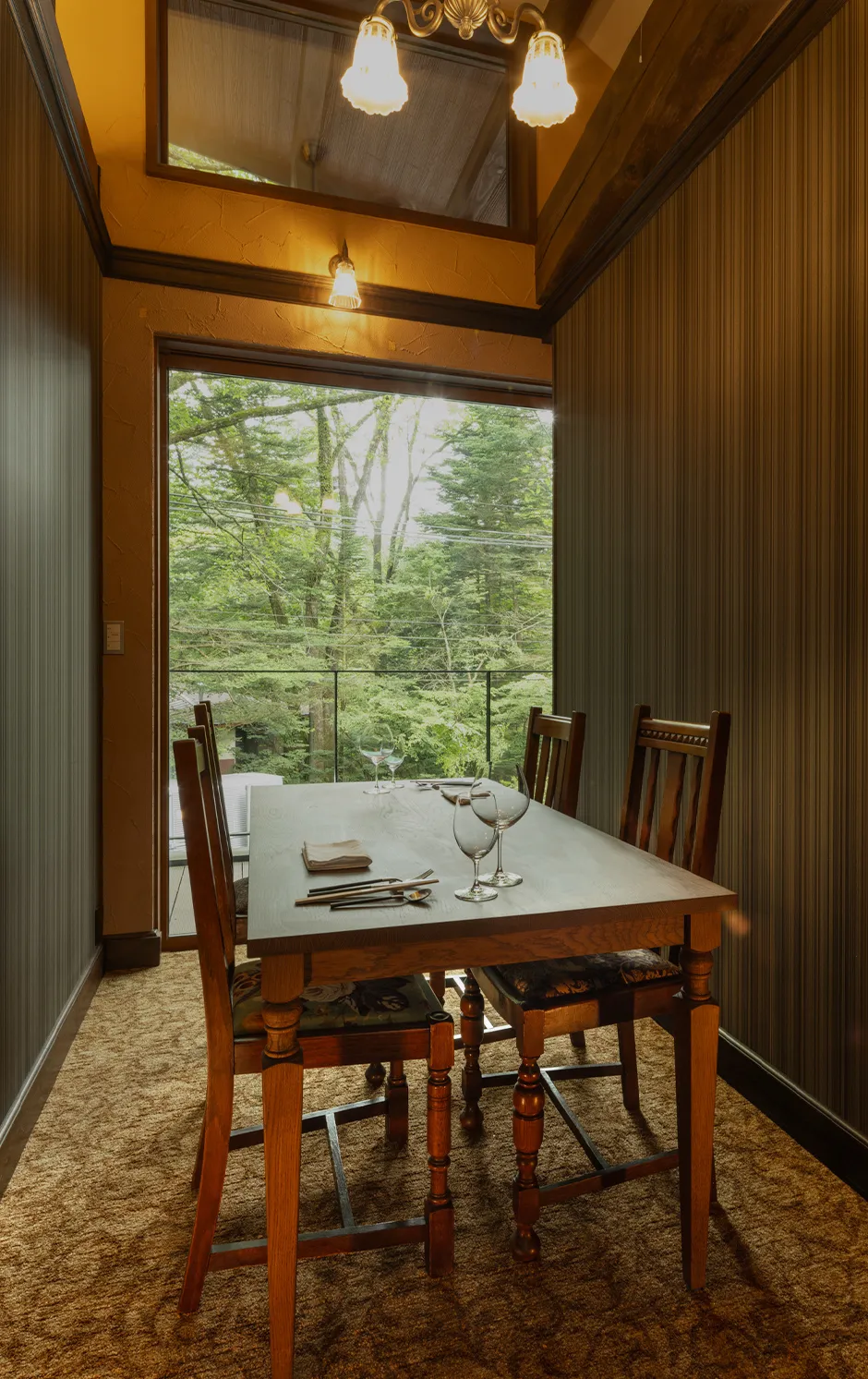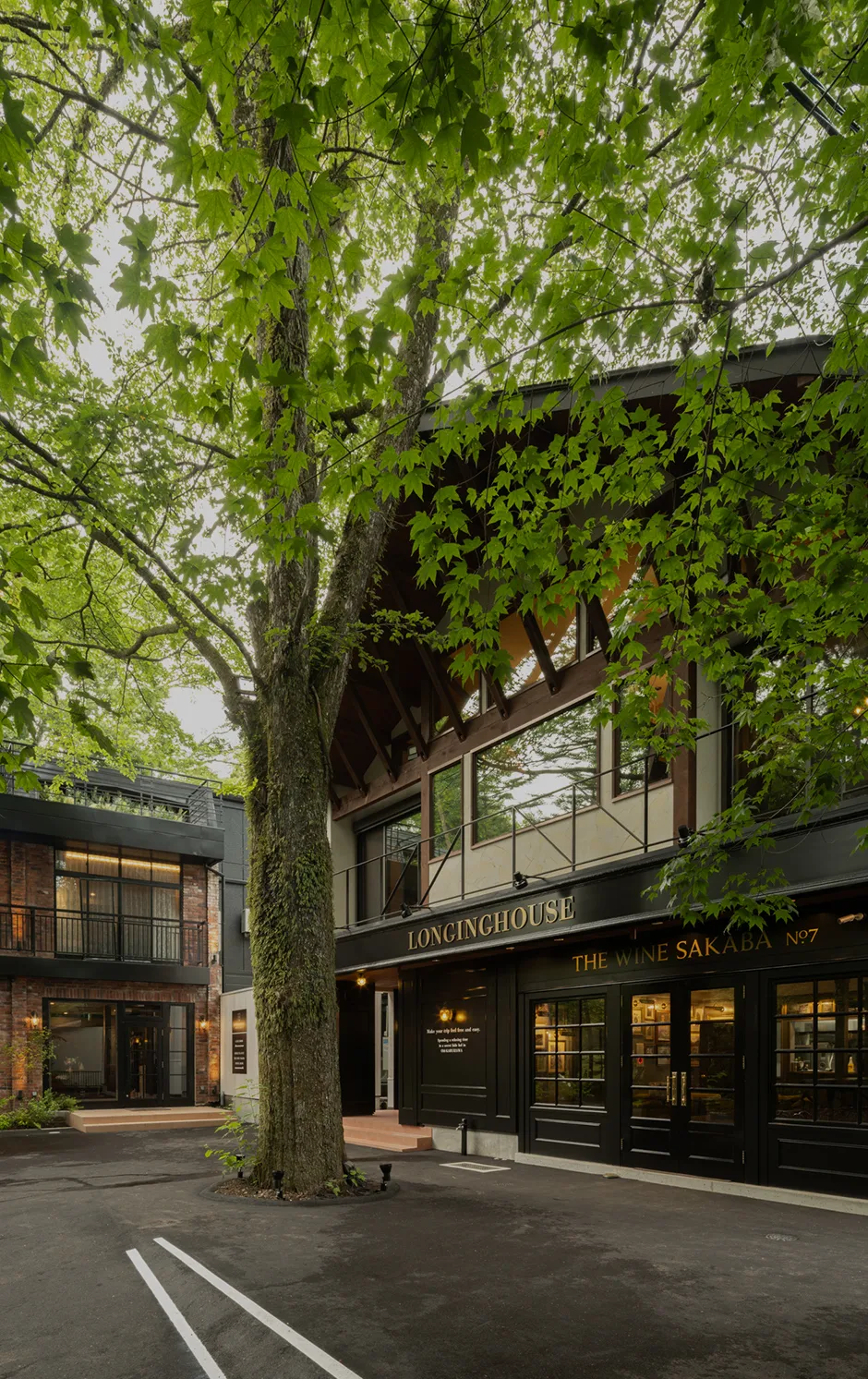 01CONCEPT Experience more freedom in your
journey with an extraordinary
getaway at a secluded inn in
Old Karuizawa.
Situated in a tranquil location near Karuizawa Suwa Shrine, a renowned spiritual spot

Enjoy time for two with food and wine in our private dining room

An adult hideaway where those under the age of sixteen are not permitted to stay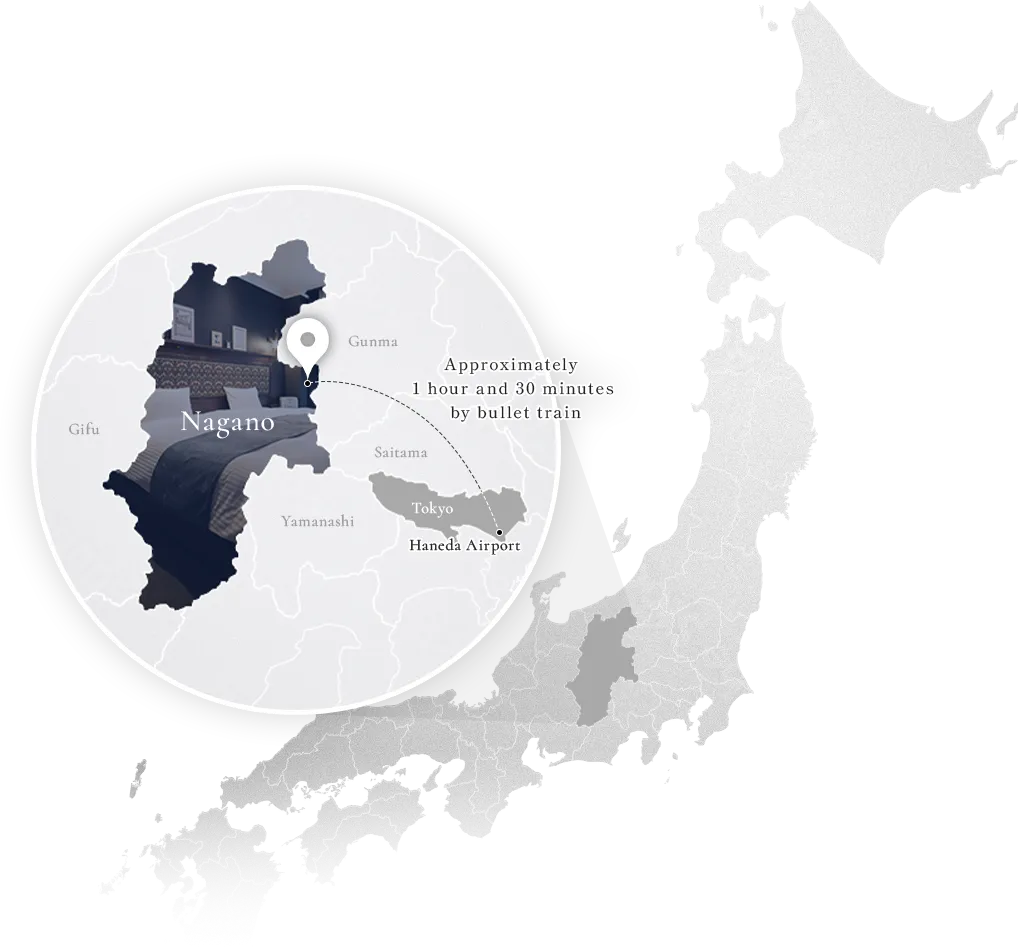 02DINING & BARCUISINE
Choose from two dining styles with a serene private dining room
and a relaxing bar where you can enjoy wine and craft beer.
PRIVATE DINING
THE WINE SAKABA





PRIVATE DINING
For dinner is a French course featuring meat, while breakfast is served as a course with your choice of main dish
Both dinner and breakfast are served in small private rooms for 2 to 4 guests, creating an intimate space for couples...
*The upper section is connected to the neighboring area and is not soundproof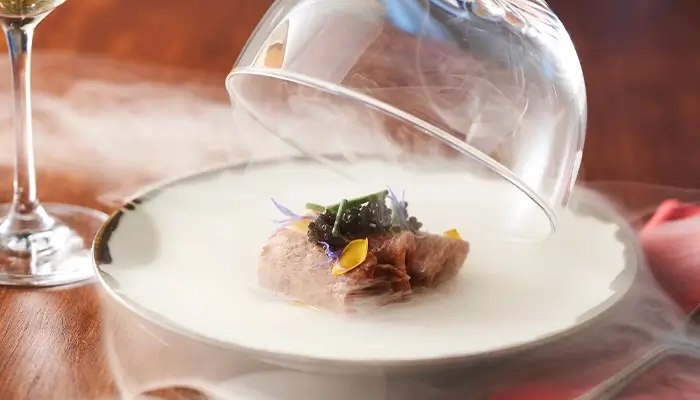 DINNER
A French course incorporating a hint of Japanese flavor paired with alcohol
An elegant French course featuring meat for a moment of bliss
Hours
Opens at 5:30 PM, last entry at 8:00 PM
*On busy days, we may employ a time slot system, with two slots starting from 5:30 PM and 7:30 PM.
*Featuring locally sourced meat, including Shinshu Tateshina beef, carefully selected by our head chef.
*Enjoy a variety of beverages, including wines curated by a sommelier, craft beers, and local sake (additional charges apply).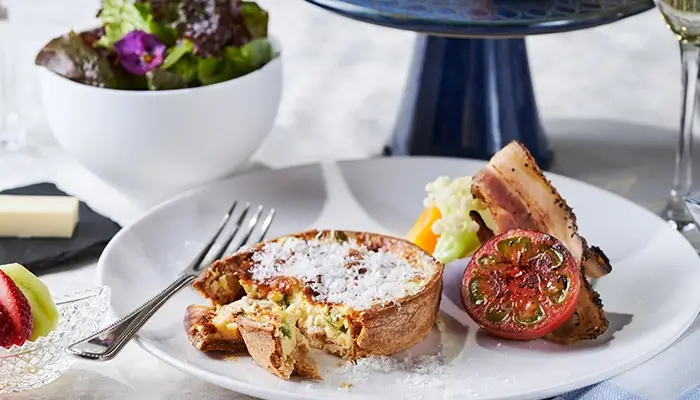 BREAKFAST
A course featuring freshly baked bread, warm soup, and your choice of main dish
Hours
Opens at 8:00 AM, last entry at 9:30 AM
*On busy days, we may employ a time slot system, with two slots starting from 8:00 AM and 9:00 PM.
*May be changed to an assorted salad platter or a set infused with Japanese flavor
(We will inquire during check-in)





THE WINE SAKABA
A bar where you can savor wine and local beer in a relaxed ambiance
Enjoy a lively evening in Karuizawa with our casual à la carte menu
Visit immediately after check-in or for an after-dinner drink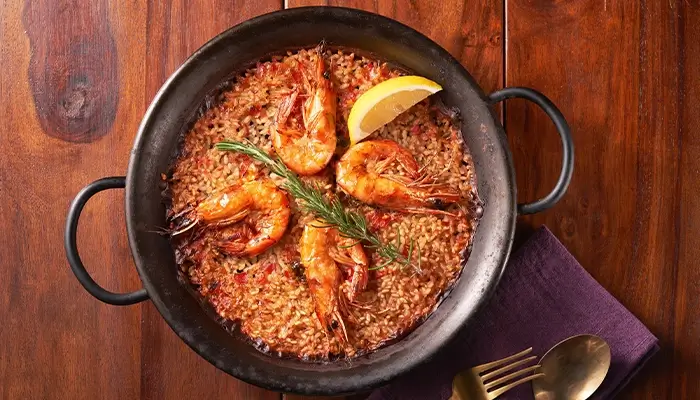 DINNER
A replete selection of sommelier-selected wines, snacks that pair well with alcohol, and even foods to finish your meal
Choose between terrace and indoor seating according to your mood
| | |
| --- | --- |
| Hours | 5:30 PM to 10:00 PM (last call) |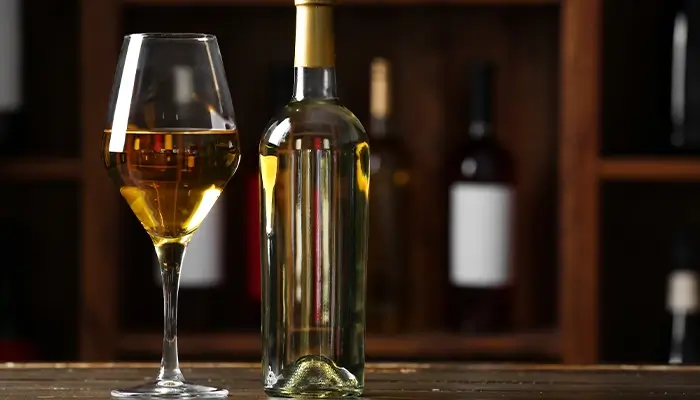 BAR
A sophisticated evening spent as you please
| | |
| --- | --- |
| Hours | 3:00 PM to 11:00 PM (closing time) |
*Due to the serene villa location, terrace seating will be available until around 8:00 PM.
Two dining styles to choose from
PRIVATE DINING
THE WINE SAKABA
03STAYGUEST ROOMS
Warm, antique-style guest rooms with 6 ranks in total
A villa-like stay in the forests of Old Karuizawa
All rooms are furnished with Hollywood Twin beds
*There is no elevator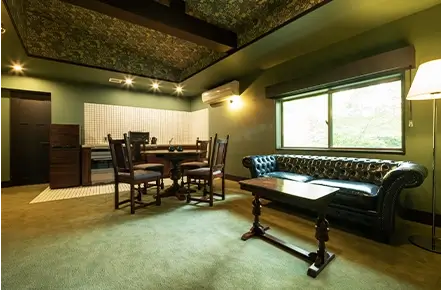 KITCHEN SUITE
50m² with kitchen
Capacity: 2 guests *Under 16 years of age not permitted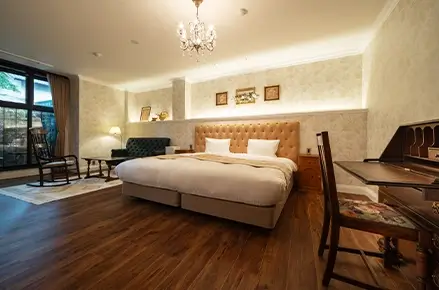 EXECUTIVE
40m² with terrace
Capacity: 2 guests*Under 16 years of age not permitted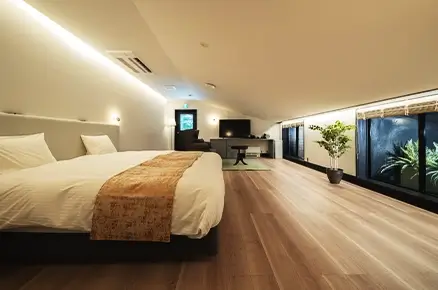 GARRETT ATTIC ROOM
33m² (excluding the area with the lowered ceiling)
Capacity: 2 guests *Under 16 years of age not permitted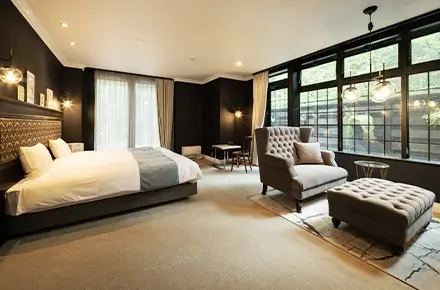 SUPERIOR
38m² with terrace
Capacity: 2 guests *Under 16 years of age not permitted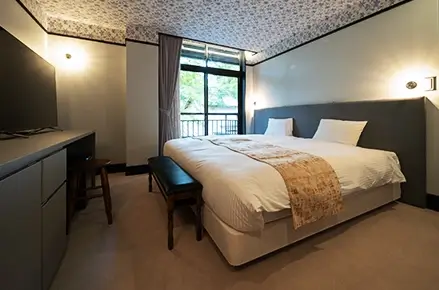 COMFORT
33m² with veranda
Capacity: 2 guests *Under 16 years of age not permitted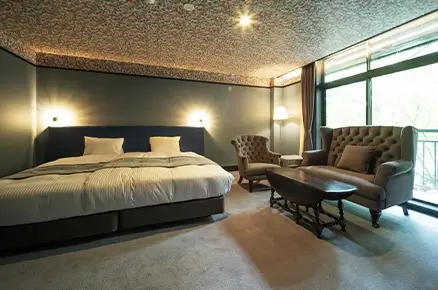 MODERATE
30m²
Capacity: 2 guests *Under 16 years of age not permitted
04EXPERIENCEFACILITIES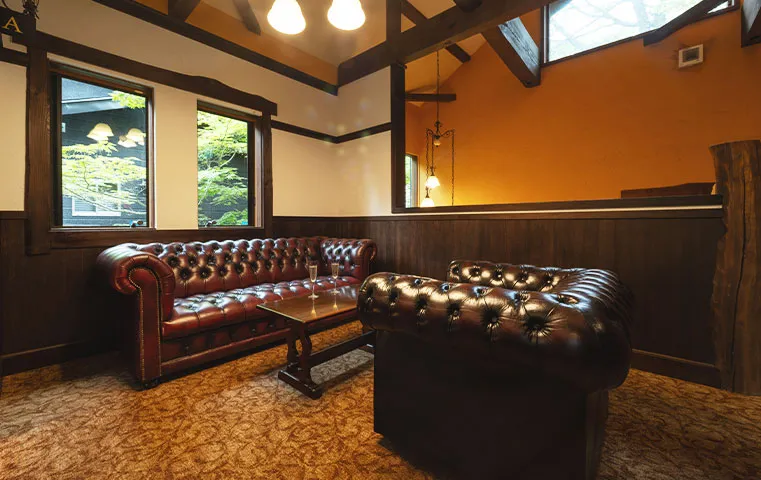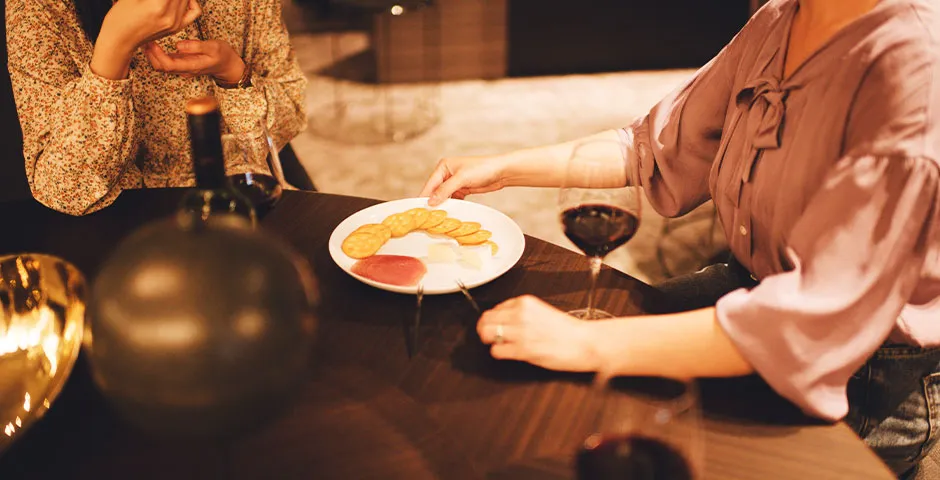 Intricate design and muted colors harmonize
to create a refined space
Experience an extraordinary getaway
with the sense of privacy and slow-paced quality time

you'll find at only a secluded inn
05LOCATIONACCESS
Approximately 1 hour 30 minutes from Tokyo by bullet train,
a 2-minute walk to Old Karuizawa Ginza
An adult hideaway nestled next to Suwa Shrine
BY TRAIN
BY AIRPORT
BY CAR
BY TRAIN
For guests coming from the Tokyo area

the Tokyo area
Tokyo Station
Hokuriku Shinkansen Approximately
1 hour 10 minutes
Karuizawa Station
Bus for Old Karuizawa
Approximately 4 minutes
Old Karuizawa
Approximately 7 minutes On foot

For guests coming from the Nagoya area

the Nagoya area
Nagoya Station
Tokaido and Sanyo ShinkansenApproximately 1 hour 40 minutes
Tokyo Station
Hokuriku ShinkansenApproximately 1 hour 10 minutes
Karuizawa Station
Bus for Old Karuizawa
Approximately 4 minutes
Old Karuizawa
Approximately 7 minutesOn foot/p>

BY AIRPORT
For guests coming from the Nagoya area

the Tokyo area
Haneda Airport
Terminal 1
Tokyo Monorail Approximately 18 minutes
Hamamatsucho Station
Keihin-Tohoku Line (Rapid) Approximately 4 minutes
Tokyo Station
Hokuriku Shinkansen Approximately 1 hour 10 minutes
Karuizawa Station
Bus for Old Karuizawa Approximately 4 minutes
Old Karuizawa
On foot Approximately 7 minutes

For guests coming from the Nagoya area

the Nagoya area
Nagoya Station
Tokaido and Sanyo Shinkansen Approximately 1 hour 40 minutes
Tokyo Station
Hokuriku Shinkansen Approximately 1 hour 10 minutes
Karuizawa Station
Bus for Old Karuizawa
Approximately 4 minutes
Old Karuizawa
On foot Approximately 7 minutes

BY CAR
For guests coming from the Tokyo area

the Tokyo area
Nerima IC
Kan-Etsu Expressway Approximately 1 hour
Approximately 1 hour
Joshin-Etsu Expressway Approximately 40 minutes
Usui-Karuizawa IC
Karuizawa Shimonita Line via Prince Street To Old Karuizawa ~ 15 minutes

For guests coming from the Nagoya area

the Nagoya area
Within the city of Nagoya
Tomei Expressway ~ Chuo Expressway ~ Nagano Expressway Approximately 3 hour 30 minutes
Via Koshoku Junction
Joshin-Etsu Expressway Approximately 40 minutes
Komoro IC
Asama Sun Line 40 minutes bound for Old Karuizawa